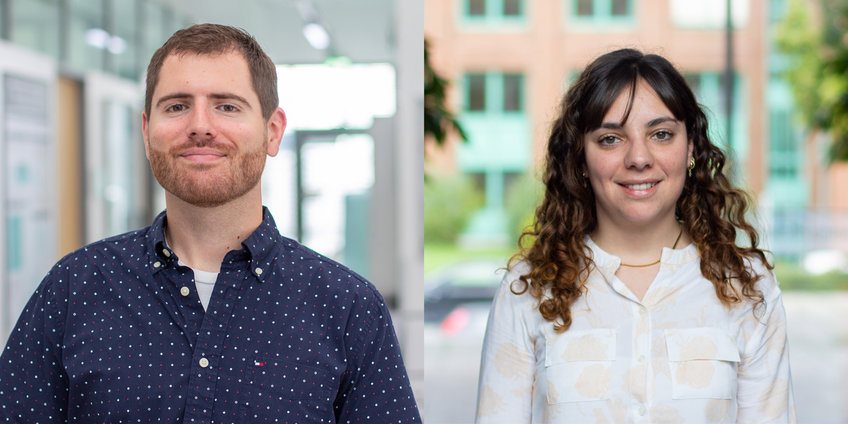 Two new Humboldtians at the MPI Dortmund
Laura Posada and Ryan Hylton receive Humboldt Fellowship - congratulations!
Max Planck researchers Laura Posada and Ryan Hylton from Dortmund have been awarded the prestigious Humboldt Fellowship for their research stay in Germany and their outstanding scientific achievements. With its fellowships, the Humboldt Foundation supports internationally doctoral researchers with above-average qualifications. The fellows are funded for a research stay with a German employer for up to two years on a research topic of their choice.
Laura Posada began her scientific career by studying pharmaceutical chemistry at the University of Montevideo, Uruguay. In the course of her doctoral thesis, she worked on the synthesis and possible applications of natural cyclopeptides. She also completed research internships in Barcelona and Osako. In the research group of Peter 't Hart at the Chemical Genomics Centre (CGC), she is working on the development of cell-permeable cyclic peptides that bind and destroy the cancer protein RBM39 in the cell. To do this, the researchers want to use a new therapeutic strategy based on so-called PROTACS. These consist of two interconnected molecules that bind the target molecule on the one hand and a component of the body's own waste disposal system on the other. In this way, the cancer protein RBM39 is to be specifically marked for decomposition by the cell.
Ryan Hylton studied at the College of Medicine at Pennsylvania State University. As part of his doctoral thesis in the group of Dr. Matthew Swulius for Biochemistry and Molecular Biology, he investigated how the cytoskeleton restructures during neuronal development. In Stefan Raunser's Department of Structural Biochemistry he is investigating the structure of cofilin-actin rods. They play a role in neurodegenerative diseases such as Alzheimer's in that they can have a damaging effect on the transport of substances in the cell. The synaptic structure and function of neurons can also be affected. For his research, he uses cryo-electron tomography. The technique enables the three-dimensional representation of the finest cell structures in their natural environment. A comprehensive knowledge of the structural properties of the structure-giving proteins is the basis to develop approaches to treating neurodegenerative diseases.
We warmly congratulate Laura and Ryan on receiving the scholarship and wish them all the best for their scientific careers!