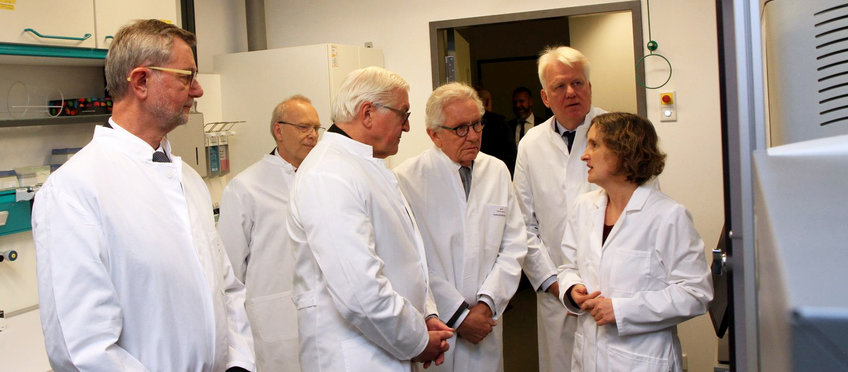 President of Germany Frank-Walter Steinmeier visits COMAS
As part of his Ruhr Area tour on November 22nd the President of Germany Frank-Walter Steinmeier visited COMAS (Compound Management and Screening Center) at the Max Planck Institute (MPI) of Molecular Physiology to learn more about drug research in Dortmund.
On his tour "Structural Change in the Ruhr Area", Frank-Walter Steinmeier visited the Duisburger Hafen AG, the NRW Center for Talent Promotion in Gelsenkirchen, as well as the Technology Center Dortmund (TZDO) in the Science and Technology Campus Dortmund. There, Sonja Sievers, head of COMAS is in search of new bioactive substances that can serve as starting points for the development of innovative drugs.
COMAS has created an infrastructure for the storage and analysis of over 240,000 chemical substances and has been implemented at the MPI as the central substance library of the Max Planck Society. "Sometimes our work is comparable with looking for a needle in a haystack," Sonja Sievers explained to the Federal President. The tedious search is only possible with the help of highly automated robot platforms, which test thousands of substances every day for their biomedical effects. Only recently, COMAS received a second robotic platform funded by the state of North Rhine-Westphalia and the European Union as part of a newly created infrastructure for drug research in Dortmund.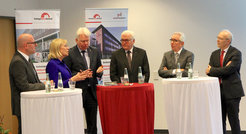 The visit of the President of Germany was initiated by a round of talks with the Mayor of Dortmund Ullrich Sierau, the rector of the TU Dortmund Prof. Dr. Ursula Gather, the Managing Director of the LDC Dr. Peter Nussbaumer, the NRW Minister for Federal and European Affairs and Dr. Stephan Holthoff-Pförtner and Prof. Dr. Stefan Raunser, Director at the MPI of Molecular Physiology. The discussion was anchored by the Host Guido Baranowski, Managing Director of the TZDO.
The Federal President was impressed by the location development, the created infrastructure, the professional technology transfer, and especially by the lively cooperation of the network partners from science and industry.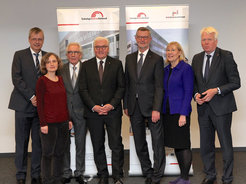 Steinmeier summed up his visit as follows: "The Ruhr Area is a role model for structural change, of which I will also report elsewhere in Germany."
JJ/PH