Research consortium with Max Planck participation receives 10 million Euros in DFG funding
 The research group of Prof. Andrea Musacchio, director at the Max Planck Institute of Molecular Physiology, is part of a research consortium that has received DFG (German Research Foundation) funding of approximately 10 million euros for its project "Molecular Mechanisms of Cell State Transitions." The team, led by Prof. Hemmo Meyer of the University of Duisburg-Essen (Uni-DUE), also includes Prof. Michael Ehrmann (Uni-DUE), Prof. Christos Gatsogiannis, Westfälische Wilhelms-Universität, and Dr. Malte Gersch, TU Dortmund. Together, they will investigate mechanisms that guarantee error-free organismal development and tissue regeneration.  
The division and growth of cells, also known as proliferation, are of central importance for organismal development and tissue regeneration. These processes must be tightly controlled since even the smallest errors can lead to serious diseases such as cancer. A key feature of control is the establishment of well-defined biochemical and epigenetic cell states that are part of a checklist that is progressively processed. Once a state is successfully reached, it is checked off and a sequence of molecular mechanisms triggers the transition to the next state.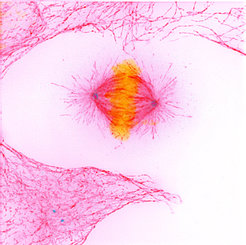 The research focus of the joint research project is on understanding these triggering mechanisms of state transitions and to develop means to modulate them. To address the fundamental questions of the project, the participating scientists will apply their extraordinary expertise and state-of-the-art technologies: These include biochemical reconstitution, i.e. the reconstruction of biological mechanisms in the test tube, as well as targeted intervention in cellular processes by newly developed chemical tools.
The project "Molecular Mechanisms of Cell State Transitions" is one of 11 new Collaborative Research Centers (CRC) of the DFG and will be funded with approximately 10 million Euros from July 01, 2021.
The main task of the DFG is to select the best projects by researchers at universities and research institutions on a competitive basis and to finance these projects.
The DFG supports projects in all scientific disciplines and promotes interdisciplinary cooperation among researchers. The Collaborative Research Centers enable innovative, ambitious and long-term research projects to be carried out in a collaborative effort and thus intended to serve the development of important structures at the applicant universities.