Andrea Musacchio appointed new Vallee Visiting Professor
Internationally recognized leaders in the biomedical sciences honored by Vallee Foundation
The Vallee Foundation honors Andrea Musacchio from the Max Planck Institute of Molecular Physiology in Dortmund and Li-Huei Tsai from the Massachusetts Institute of Technology by appointing them Valle Visiting Professors (VPP). Elected scientists take a one-month sabbatical at a research institute of their choosing. This provides an opportunity to explore new concepts and ideas, exchange scientific views, and establish and strengthen collaborative relationships with other researchers.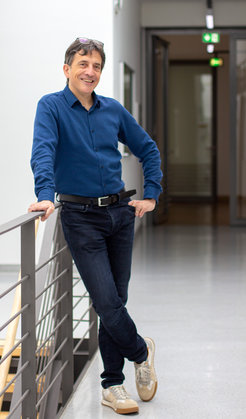 The Vallee Visiting Professorship program pairs outstanding scientists with premier biomedical research institutes worldwide in an informal arrangement that promotes intellectual exchanges and fosters new partnerships. The month-long sabbaticals have proven to be a great success for planning research, conducting experiments, and establishing meaningful relationships. Musacchio plans to take his VVP sabbatical at Stanford University which hosts an exceptional community of cell cycle, cytoskeleton, and chromosome biology researchers.
Andrea Musacchio is the director of the Department of Mechanistic Cell Biology at the Max Planck Institute of Molecular Physiology in Dortmund and appointed honorary professor at the University of Duisburg-Essen. His lab investigates the molecular basis of mitotic cell division in human cells, with a strong focus on the kinetochore. Musacchio's laboratory made fundamental inroads into the structure and function of the different layers of kinetochores and how they connect chromosomes to the mitotic spindle. By identifying a crucial control mechanism which ensures that cell division is delayed until all chromosomes are attached, he laid the foundation for understanding how this stage is controlled during cell division. Andrea has received two ERC Advanced Grants (2009 and 2015) and an ERC Synergy Grant (2020). For his groundbreaking structural biology work on the distribution of chromosomes during cell division he was honored with the Gottfried Wilhelm Leibniz Prize 2020, the highest scientific award in Germany.