Max Planck Society Trainee Award for Lukas Braun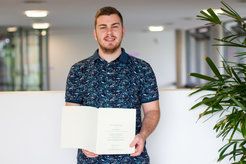 Lukas Braun, IT specialist/system integration trainee, received the Max Planck Society (MPS) 2021 Trainee Award in a small ceremony. Lukas has distinguished himself at the institute through his special commitment and above-average diligence. He is the Institute's Youth and Apprentice Representative (JAV) and also took on the role of JAV for the entire MPS during his apprenticeship.
The award, which has been in existence since 2007, is intended to recognise outstanding professional and academic achievements and special social commitment during training; it also focuses on personal development. The prize is endowed with 750 euros. Up to 20 of these prizes are awarded by the selection committee, which consists of four trainers and one member each from the central works council and the central youth and trainee representation.