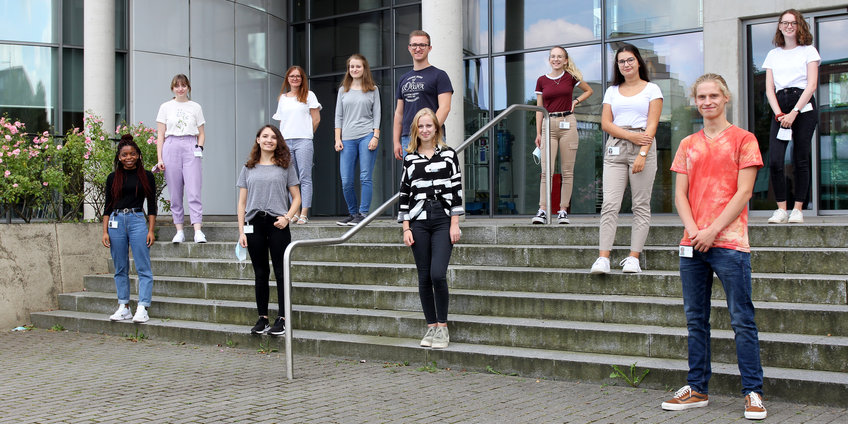 Biotechnology Training Network defies Corona
Dortmund Training Network again trains ten technical assistants
In August 2020, ten trainees began their training program at the Max Planck Institute of Molecular Physiology (MPI) as part of the Dortmund Training Network Biotechnology. Together with the Leibniz Research Centre For Working Environment and Human Factors (IfADo), and the Leibniz Institute for Analytical Sciences (ISAS), the prospective technical assistants are offered a training program under the direction of the MPI that is unique in NRW.
"Starting a training program with ten trainees in times of a pandemic with strict distance and hygiene regulations is a great challenge for us and requires a high degree of planning and supervision. The organizational effort is really immense. All trainees are equipped with a laptop, and laboratory work is only done in very small groups in specially prepared rooms. For the first time we use live broadcasts from the laboratory and images sent directly from the microscope to the lecture hall to provide the trainees with basic practical and theoretical knowledge of biology and laboratory work," reports training manager Alice Kasprzynski (MPI) on the measures taken.
Despite these difficult conditions, the trainees can expect a challenging and exciting program covering all areas of modern biology - from anatomy to cell biology. The necessary theoretical knowledge is not only taught by the vocational school, the Hellweg Berufskolleg in Unna. Scientists from the institute supplement the educational program through in-house lectures on the institute's own research. In the course of their training, the prospective technical assistants will be directly involved in research projects thus gaining access to state-of-the-art scientific technology and learning to carry out experiments independently and responsibly.
The training association plays an important role for Dortmund as a science location. This joint initiative of local research institutes offers research-oriented training in an important future industry and thus provides the urgently needed new generation of highly qualified specialists.