Sunit Pal receives highly-coveted Marie Sklodowska-Curie Postdoctoral Fellowship
 
The Max Planck Institut of Molecular Physiology congratulates Sunit Pal, Postdoc in the lab of Peter 't Hart at the Chemical Genomics Centre on receiving the highly-coveted Marie Sklodowska-Curie (MSCA) Postdoctoral Fellowship funded by the European Commission. The objective of the fellowship is to help talented young researchers to expand on their knowledge and skills, to support their careers and foster excellence in research.
 
We have asked Sunit about his motives and his experiences when applying for the MSCA Fellowship
Sunit, could you please tell us about yourself, why did you become a scientist?
Sunit: The desire to become a scientist is a long-term thought process that was inculcated in me by my teachers in the early days of my education. The remarkable histories behind the great discoveries of several Indian scientists always propelled my young mind to do something challenging. Since then I have been fascinated by learning science. The reason to become a scientist is that science always drives us to think in a systematic way to find the solutions to the fundamental problems that we face in our daily life.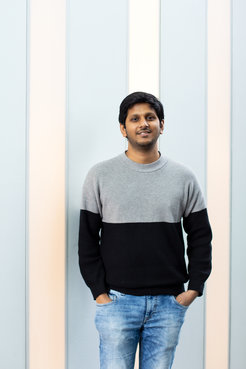 How did you get the idea to apply for the fellowship? Could you give us some insights on how you went about putting together the proposal?
Sunit: While discussing my future perspectives with my supervisor Peter, applying for the individual fellowship popped up in our minds as we thought it is a good practice and would definitely help me to pursue my independent scientific career in the future. For the scientific part, brainstorming with Peter led us to a very interesting project proposal while Roberta Palumbo, who is the grant officer at MPI, tremendously helped me with the structure and the general overview of the grant preparation. I really appreciate that and thank both of them for their support!
What is your project about? Can you describe it in one sentence?
Sunit: In short, my project is about modulating the mRNA stability by macrocyclic peptides.
How will you achieve your goals?
Sunit: Because of the interdisciplinary nature of the proposal, there is both a chemical and a biological approach. My never-ending enthusiasm for synthetic chemistry and my past experiences in peptide chemistry would help me to develop the macrocyclic peptide libraries to target mRNA stability while for the biology part I am very much looking forward to having healthy collaboration with my colleagues in the 't Hart group and MPI.
Do you have tips for future applicants?
Sunit: I would suggest to the future applicants to be updated with the latest research of interest. This can help to generate new ideas. Propose something where one can still unravel new perspectives and at the same time utilize one's own skill to resolve scientific questions. We will never get something unless we try it!
Sunit is from West Bengal, India. He received his PhD degree from Indian Institute of Science, Bangalore, in Prof. Prabhakaran's Lab working on the stabilization of helices using Hydrogen Bond Surrogate (HBS) model. Later in 2021, he joined Dr. Peter 't Hart's lab at the Chemical Genomics Centre of the Max Plank Institute of Molecular Physiology as a Postdoc. His project is on modulating mRNA stability by macrocyclic peptides.