Grants Office
The Grants Office actively collaborates with our research faculty to scout for national and international funding opportunities. It is committed to increase information exchange between the funding agencies and our scientific community.
The Grants Office is engaged in interpreting the formal requirements of the national and international funding agencies, in providing scientific and administrative help for the grant preparation, in designing the budget, and in supporting the final submission of proposals.
The Grants office follows, once the proposal is accepted, all the aspects linked with the phase of negotiating the grant agreement. It handles the allocated budget by monitoring it in collaboration with the administrative offices. It manages the scientific and financial reports and the aspects related with closure of the proposal.
Contact
We are supported by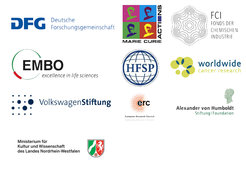 Successfully acquired third-party funding