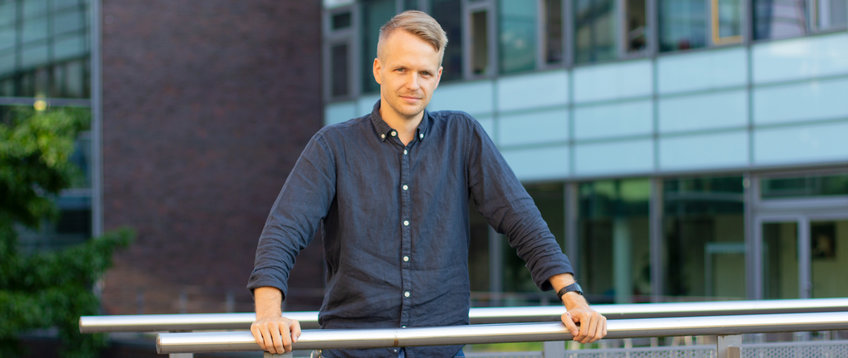 Thorsten Wagner
Project Group Leader, Structural Biochemistry

Computational Structural Biology
---
Research Focus
In recent years, machine learning algorithms have revolutionized the field of structural biology in the way we study 3D structures of proteins and other biomolecules. Advanced image processing and machine learning are now routinely being used by scientists to accelerate structural determination. As we believe that methods drive biology, our research wants to push the boundaries of what image processing and machine learning can currently achieve within the field of structural biology.
Methodologically, the focus of our group is on object localization and segmentation of cryo-electron microscopy data sets. In addition, we are working on the automation of existing workflows and pipelines in order to get better results faster. Furthermore, we extend our support to other scientists in the department with projects involving image and data analysis.
These methods enable scientists to accelerate the speed at which they can gain insights from experiments that cannot be obtained by manual analysis, or by investing long hours.
---
Selected Publications
Rice G, Wagner T, Stabrin M, Sitsel O, Prumbaum D, Raunser S (2023). TomoTwin: generalized 3D localization of macromolecules in cryo-electron tomograms with structural data mining. Nature Methods
Source
Schöenfeld F, Stabrin M, Shaikh TR, Wagner T, Raunser S (2022). Accelerated 2D Classification With ISAC Using GPUs. Front Mol Biosci.
Source
Wang Z, Grange M, Pospich S, Wagner T, Kho A.L, Gautel M, Raunser S (2022). Structures from intact myofibrils reveal mechanism of thin filament regulation through nebulin. Science
Source
Wagner T, Raunser S (2020). The evolution of SPHIRE-crYOLO particle picking and its application in automated cryo-EM processing workflows. Communications Biology
Source
Stabrin M, Schoenfeld F, Wagner T, Pospich S, Gatsogiannis C, Raunser S (2020). TranSPHIRE: automated and feedback-optimized on-the-fly processing for cryo-EM Nat Commun
Source
Wagner T, Lusnig L, Pospich S, Stabrin M, Schönfeld F, Raunser S (2020).Two particle-picking procedures for filamentous proteins: SPHIRE-crYOLO filament mode and SPHIRE-STRIPER. Acta Cryst Sect D Struct Biol.
Source
Wagner T, Merino F, Stabrin S, Moriya T, Antoni C, Apelbau A, Hagel P, Sitsel O, Raisch T, Prumbaum D, Quentin D, Roderer D, Tacke S, Siebolds B, Schubert E, Shaikh TR, Lill P, Gatsogiannis C, Raunser S (2019). SPHIRE-crYOLO is a fast and accurate fullyautomated particle picker for cryo-EM. Communications Biology
Source